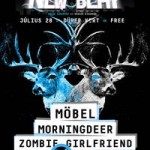 Unlike Igor it's been going around for a while now, but we're still in time to tell you about a fresh line of events running under the name "New Beat".
In collaboration with Dürer Kert and Skalar Music Hungary some prominent and young members of the local music scene figured it's about time to make something of the day on which the week isn't ending quite just yet, but the first proper drink of the weekend is still out of reach due to 8 hours of upcoming work.
In this first period the organizers primary goal is to stand out by providing opportunity for fresh projects to show themselves on stage every second Thursday.
Once the brand is more developed we might expect to see them brining over some interesting bands from abroad or seeing things happening on a larger scale.
In this warm up period we arrived to the fourth installment this week having Möbel, Morningdeer and Zombie Girlfriend sharing the stage and representing the lately over discussed but nevertheless blooming bedroom music scene.
Drinks are cheap entry is free and if you do well enough, you might as well forget about Friday