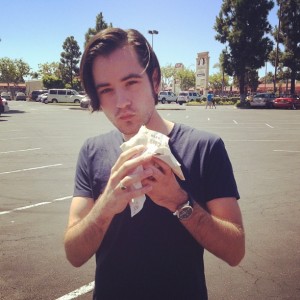 Tamás Szabó (Tonyó) is best known for being the front-man of The Moog, one of the very few Hungarian bands that did invest significant amount of energy to establish a presence abroad in the last years and have something to show for it. Even more admirable is the fact that they primarily did this not by pushing their music to blogs, offering free downloads in exchange for Facebook likes,  but simply doing what a band should do: they sat on planes, buses and cars with their guitars and went to play as many shows as possible.
Back home the most common criticism of The Moog is based on theories regarding some nebulous deal with a US based label, and the assumptions that they are wasting incredible opportunities for which hundreds of more worthy Hungarian bands would die for. This is very upsetting in many levels, but the two most disturbing conclusions are:
1: These people believing that small businesses (indie labels) can afford to waste time and money on a bad product (a band) for 3-4 years in a competitive market (North American music industry)
2: These people not wanting a Hungarian band to have more publicity, develop their skills and try out new things
In Hungary they're stuck at a point where their fans can push them no further and their critics have ran out of words to drag them down. Without moral support and a stable home base, it will be immensely difficult to put together the members for another album and another trip. The Moog is still not where it's supposed to be with their music, but they are trying hard, and are getting more and more comfortable with what they do. The potential is still there and the market abroad has certainly not turned its back on them, no matter what some people will say when they return home.
This time they are finishing their third trip to the US having spent most of 2012 in LA. During this year they released their third studio album, played gigs at venues and events such as SXSW or Filter magazine's Culture Collide, completed a tour with the B52's and had their songs featured in the American series Shameless.
We were talking to Tonyó about the band, the shows and his experience with the LA scene.
——————————————————————————————————————————————
You moved to LA more than half year ago, and as far as one can tell from such distance, based on the number and relevancy of the announced shows, it appears to work out really well so far. How does the current status relate to the vision you had before making the move this year?
Some of the things worked out as expected, while some did not. We did not manage to take care of grocery shopping by commuting in limousines and popping champagne in Jacuzzis accompanied by a bunch of high-end prostitutes. However we did manage to come through with certain accomplishments that have not been achieved by other Hungarian bands before: We had a show for the third time at SXSW, we were the only Hungarian band performing at Filter magazine's Culture Collide festival, toured with the B52's and even had the opportunity to share a gig with the ex of Lindsay Lohan, Samantha Ronson.
What was particularly amusing is that our US based publisher sold one of our songs to a Croatian T-Mobile ad. Even more amusing would've been if they'd managed to have us featured in the Hungarian version from the US.
It is very common that Hungarian bands making an attempt abroad have to face a fair amount of skepticism on behalf of their fellow countrymen. Have you experienced any of this?
I did not experience much other than that, but it is something I've grown accustomed to. For some reason the spirit of Hungary is set to failure-avoidance rather then success-orientation. As a result a band is being ridiculed instead of given moral support once they make an honest attempt abroad and do not turn out to be the Rolling Stones after 6 months. Though if more bands would take such risks: travel and try their luck in a foreign environment, the Hungarian pop music would be a more colorful entity. I for example can really appreciate anything in the domestic market, which is not derived from Kispál or ethnic folk music. Not that anything is fundamentally wrong with these, but too many of the Hungarian musicians regard them as the only valid sources for creating something new. The more a Hungarian band experiences in the world the more interesting music they will make. Although virtually anything is available via the Internet, but based on our example, I learned so much about music in general and being in a band in these last few months, that I doubt I ever got to this point by being home and downloading music. Only for this, it already made sense for us to make this trip
Not too long ago you finished a tour with the B52's. Did you have time to meet before/after shows How did your music worked with their audience?
We did meet them and they were very friendly. Fred, the singer was very nice to us. They announced us during each concert and pursued being communicative towards us before and after shows. Playing for their audience was really cool, as they really could grasp what we're about. At the last concert with them we were able to have most of the audience stand up from their chairs for a good old fashioned twist n' shout routine. A unique aspect was that most of the audience consisted of a large group of people who were a bit older than our regular audience but they rocked out more than most 16-year-old girls do.
Having been featured in Shameless provided the funding for traveling and kick-starting things in the US. Based on the current situation, is it likely that you could prolong your stay with a similar deal?
The problem with these types of deals is that it's impossible to tell. Licensing is mysterious and unpredictable business. It might happen, but it just as easily might not. I'm sure it helps if a band is able to build an increasingly established presence, as this is the most convenient way for appealing to producers and musical directors. So far nothing major came through, but we're hoping for the best. The plan is to go home for the holiday season in the second half of December. We will then discuss what the next steps should be.
Are you planning to find someone to fill the one spot, now that The Moog has lost one of its five members?
We would like to continue operating as a 5-piece band, but there is nothing more I'm able to say about this at the moment.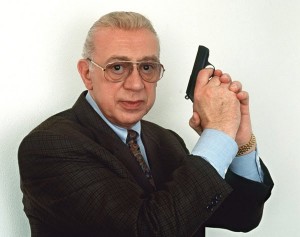 How are you dealing with each other's company after all these months living under one roof? Each of you went on making friends on their own, or you're sitting hand-in-hand at the pub every Friday?
Our main activity as a collective revolves around watching Hungarian movies from the 60s and 70s. We have this HDMI cable through which we can stream it from youtube and watch it on the TV. Previously we've been watching horrendously bad horror movies and selected episodes of Derrick. Our newest favorite is however The Voice, for which I must express the happiness I feel for Fatima for losing so much weight!!!!
Are you working on material for a new album, or your last album, Seasons in The Underground released in April is still too close?
It is far enough in many aspects. We are working on new songs, which are different than our previous material and are much better as far as I'm concerned. We have no idea however when these will be ready, so that we can release them.
What is going on with the video announced for I Wanna Take You To Paris?
I'm cutting it at the moment. We used a Super 8, it features palm trees, the ocean shore, a Mexican restaurant, baguette and a pretty famous actor. It will be pretty sweet!
Now that you spent a fair amount of time in the US focusing on music, has it occurred to you that you might want to try something else as well out there?
I'd gladly try out many different things if I'd seen there was a demand for my services…haha In the past I was working extensively in the field of fine arts (I'm an art historian by trade), journalism and event booking/promotion. I would like to continue along these lines. In the near future I would really like to be part of the creation of an event, which has the characteristics of a musical festival and an art fair. I'm eagerly waiting for my lottery ticket to yield the sufficient funds to have this realized.
I would also like to write music for movies. In this aspect I already made some progress: I'll be writing music for a film, which features two pretty well-known actors. One of them is John Kreese, the evil trainer from Karate Kid, and the other one is Vincent Pastore, who had a character called Big Pussy in Sopranos. The latter was one of the villains of a Guy Ritchie movie, but I fail to recall the title.
Back in Budapest, besides organizing concerts, releasing music, and playing live you were working in the field of fine arts. Are there any overlaps between the two areas? 
Unfortunately there isn't much of an overlap between the two fields at home, but I would really like to try something, which could change things a bit. Or if this is too much of a task, I'd at least attempt to get by between the two.
In 2011 you and some friends started Bastiaan, which has the potential to achieve success, like you did with The Moog. If this trip turns out to be a year in Los Angeles, are you planning to continue with this back at home?
If the others are in, then I'd be happy to. We have a bunch of cool songs unrecorded, and this is something I'd definitely amend. We'll see what happens.
Based on the songs and musical projects you were involved in, one can discover a specific sound that is your own. Are you aware of anything specific that influenced you?
The troubled childhood of mine… To be perfectly honest however, I couldn't say I am.
Any memorable moments with '56 expats or other fellow Hungarians?
Oh yeah! Before we had a gig at the local Magyar Ház, we went down to check the place and hang out with the locals. This is in the downtown of LA in the middle of a decent neighborhood with with typical Californian landscape. As soon as we entered the building it felt like we are 10.000 kilometers and 20 years away backwards. Besides everyone being extremely friendly, we couldn't help feeling like we're in a countryside pub at the end of the 80s. One or two of those old guys (presumably living here since '56) were playing a game of ulti at the bar, while a decent amount of fröccs was also consumed collectively. They didn't really understand what we were doing there, but we had a nice chat nevertheless.
LIST:
Coolest three items you bought for yourself during this trip?
Rockstar energy drink
Fancy looking pair of shorts
Carl's Jr. hamburger
Best new song
Best song ever
Best Hungarian band 
Vörös István és a Prognózis
Best Hungarian song
This one  (for real!!!) 
Best exhibition
I haven't seen the best so far, cause that would surely be a Frantisek Kupka exhibit 
Best movie 
Bond movies with Sean Connery
Best movie this year 
I've only seen the new Bourne movie, but it was rubbish compared to the first three parts… So I really don't know
Favorite book
Lately I've been reading books from Rudolf Steiner and Aleister Crowley. I have no favorite books. Ok, maybe Tüskevár
Best city
Barcelona in Europe, New Orleans in America
Best pub 
Vittula or Bambi
Best concert 
There's no such thing. Seriously…
Best concert this year
I was surprised but it was the Drums in Austin. Actually The Jesus and Mary Chain were better at the same place
Best video game
Command & Conquer
Favorite instrument
Favorite artist
Frantisek Kupka
Favorite Hungarian artist
Musical instrument of your dreams
Let's be serious now, I'm no jazzfreak!
Dream collaboration
Would gladly do anything with the New Order. Ok, maybe not anything
——————————————————————————————————————————————