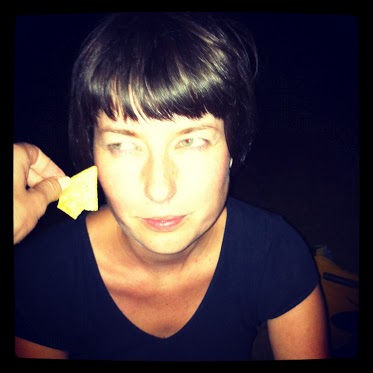 On Tuesday, December 11th, "TRAPÉZ", a new space for contemporary art opened in Budapest!
Their first show is a solo exhibit with Budapest based photographer Peter Puklus, who is working in one of the Igor Metropol HQ studios. We asked Zita Sárvári, one of the initiators of TRAPÉZ and former curator at Virág Judith Gallery, about their upcoming programs, their aims, and their motivation for opening a commercial art space in these troubled times in Hungary.
Who is behind TRAPÉZ?
ZS: TRAPÉZ is run by Zoltán Földvári and myself. Zoltán has always been close to contemporary art as he has been dealing with art before. We lead the gallery together, and together we are also responsible for the program and for our collector base. We decide together which artists we would like to work with and which art fair we should participate in. We are very like-minded in terms of how a contemporary commercial gallery should operate today, and we have the same goals we are aiming for with TRAPÉZ.
What does the name TRAPÉZ stand for or refer to? 
ZS: TRAPÉZ has many meanings. The first meaning in the Hungarian language marks the geometrical form, but there is a second meaning, because trapéz (or trapeze) can also mean the aerial apparatus commonly used in circus performances. The meaning of the geometrical form and the connotation with circus really fit to the artistic profile of the exhibition space – but I don't want to mystify it. On the other hand we really like the characteristic sound of the word, and moreover we were looking for an international name, which is unique and easy to memorize.
What kind of programs are you planning? Do you have "artists of the gallery" with whom you are working continuously?
ZS: TRAPÉZ is a brand new space for contemporary art, based in the city centre of Budapest. It is concentrating on presenting international contemporary art, including a broad spectrum of media. There will be a group of artists in TRAPÉZ with whom we will be working together on a regular basis, but we are also open to artists who only exhibit once or twice at our space, for example during exhibitions organized by invited independent curators. TRAPÉZ opens with the solo show of Peter Puklus, and continues with the solo show of the Amsterdam based artist Adam Ulbert.
What makes TRAPÉZ different from other commercial galleries established in Budapest?
ZS: The most important difference from the majority of Hungarian galleries is that we will have an international program. Our aim is not only to represent Hungarian artists here and abroad, but also to introduce artists from Europe and the overseas in Budapest. It is just a feature that TRAPÉZ is located in Hungary. We don't think in categories such as nationalities and countries, we are only interested in good contemporary art.
Regarding the international program. Can you also give a brief sneak-peak what visitors can expect?
ZS: We started to discuss artists from abroad, who already had certain professional success. For example, the new generation of American photographers, who emerged during the past five years. We invited the youngest member of this group to TRAPÉZ. There are also some artists from Germany whose art could really fit into our program. Furthermore, we are planning to participate in different international art fairs and we are open for cooperation with international galleries and relevant cultural institutions.
On Facebook, you also announced "TRAPÉZ will shake the contemporary art world in Budapest". Isn't it currently "shaking" a lot, e.g. regarding the current changes in the governmental cultural policies?
ZS: The cultural political situation in Hungary is very complicated nowadays. Some people might think we are crazy to open a commercial space for contemporary art in these days and at this location. But as I mentioned we are very much focusing on the international art and collector scene, and what is even more important: We truly believe in TRAPÉZ – without this faith we could be closing the doors right away.
Due to your previous professional career, you have already developed a strong base and knowledge of the commercial art sector in Budapest. Some people refer to the Hungarian art market as "non-existent", what's your opinion?
ZS: Well, it depends on which market within the art market you are referring to: classical-modern or contemporary. The classical-modern one is a very existent market, where not only Hungarian collectors invest, but collectors from very diverse countries, like the US, Israel, other European countries, and even from the CEE region. And the buyers are not only private persons, but also institutions, which are currently making an effort filling the gaps in their collections. But if we think about the contemporary art market, it's a different situation with different rules. There are some Hungarian collectors, who follow and regularly update themselves about the international trends by visiting institutions, art fairs, galleries and artists' studios abroad. With this wide range of knowledge they are very conscious about which Hungarian artists they are interested in. Though not too many Hungarian collectors have international collections, there are a few who buy from galleries abroad, and have a very interesting collection. We in TRAPÉZ really believe that next to the older and wiser generation of collectors, we are able to bring up a new and young generation of collectors in Hungary who take the risk to collect contemporary art.
In your opinion, what is the contemporary Hungarian art scene like nowadays: are there certain trends in media (photo, painting), or subjects and topics? Compared to other countries: is it a strong scene or community?
ZS: There is a strong trend in the CEE region for dealing with the not so distant past. It is important for artists to articulate their social background somehow. They clarify their common eastern past, including a common eastern visual milieu for the western art scene by using the forms of modernism, by turning back to their childhood and by re-defining the utopia of modernism. The borderless union of countries within the region helps to articulate this unique peculiarity, especially the connection of the Visegrad fours, whose forms of cooperation supports the circulation of contemporary art throughout the borders. Dominik Lang, Svätopluk Mikyta, Marko Tadić, Pavla Scerankova, István Csákány, are just a few names of artists, who are filtering collective memory through their personal history by approaching DIY aesthetics and whose art attitude is very observational and analytic.

Pavla Scerankova: open closed open closed, 2008 /site specific project for an empty petrol station.
Q & A, Zita Sárvári
Best exhibition in Budapest you have seen in 2012?
Gergő Szinyova's solo show in Kisterem Gallery
Best exhibition abroad in 2012?
Milan Adamciak: Galanta songs, transit.sk, Bratislava, Slovakia
Best exhibition you have ever visited?
Collection of DIA, Beacon, U.S
Innen stadt Aussen: Olafur Eliason, Martin Gropius Bau, Berlin, Germany
Which person from the art world would you like to meet for a dinner?
There are many persons, not only in the art world I would like to meet sometime, but I can't say a specific name.
Favourite Restaurant in Budapest?
M Restaurant. It is more like a bistro, a very iconic place. They serve a fusion cuisine of delicious Hungarian specialities mixed with a French style of gastronomy.
Favourite Bar or Club in Budapest?
GMK