Here we are with the second edition of our new section where we attempt to map out the Hungarian music scene through a series of interviews with musicians, journalists, promoters, label representatives and various other key- or relevant figures of the local industry.
In this issue we are talking to Ádám Lang, the front man of Halál Judit, a band already on its way establishing cult status (an underground version of it for sure) for decades to come in Hungary with songs such as Világvége, Rendőrállam or the instant pop hit, Balaton.
Apart from being one of Hungary's most talented lyricists, Ádám, originally from the small town of Csanak, is a journalist publishing for Quart.hu, a relevant medium for music.
Regardless the current status and reputation of the bedroom/lo-fi/garage scene in Hungary, no one can argue with the fact that its sudden and self-driven establishment was the most spectacular thing happening in the last decade or so within the domestic market for music. And whoever paid a little attention cannot argue with another fact that Ádám was in the midst of it all as one of the most active and resourceful elements, aiding the birth of a new coherent genre.
As recognition of Ádám's efforts in these various fields he's been featured in the 2011 editions of the enigmatic Cool List Hungary and the less enigmatic and far less subtle Trú List Hungary.
————————————————————————————————–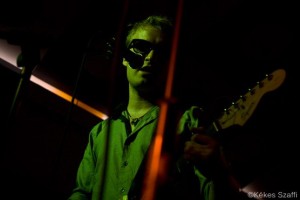 How and when it all started with Halál Judit, and with music in general?
I like to start things with 2006, when we recorded some songs in my little brother's room and called the thing Fehér Afrika (White Africa). Drums, bass and piano (in one song we even had a violin!) were programmed in Guitar Pro, with three chords played by me on the guitar and my brother shouting non-sense over it. Once completed, I had this strange feeling: This is how one produces a song? One is able to put together half an album alone in a matter of mere hours? The songs of course were more funny than proper, but it made me realize, there's no need for three or four people to form a band.
What now is Halál Judit was started in 2007 with Don. Back then it was a different formation under a different name: I was responsible for shouting and playing the guitar, while Don was drumming on junk found around the house. His kit consisted of all sorts of items: miced lunchbox, gutters parts, beer cans and so on… Once we had ten songs, we called over some friends. A girl was projecting these slides on which we all drew nonsense before. And we started playing. Based on the feedback we got, we sucked, but were slightly better than expected. We thought that's ok. We started coming up with a song in every 6 months, and organized a gig around each. Slowly the whole thing started to take form. Don switched to the bass, but also started playing synths and sing. After the first concert with a drum machine, everyone told us that somehow it's really good this way. Finally we started playing gigs on a more regular basis around 2012. We did not want a drummer at first, but once Áron wrote us that he'd like to join I was so moved by the fact that there is an actual musician, who'd like to play with us, that I immediately replied with a yes. With a half year delay to be exact, because that's when I noticed the email for some reason.
Halál Judit is already responsible for a series of songs which has the potential of becoming 'anthem of a generation' sort of thing – at least for a set of Hungarian generations. Some of these have a good chance achieving cult status within the next 10 years or so. Is there a drive in creating these, or it's all accidental?
It was not intentional at first, it just came with time. We always wrote the songs for ourselves, but we always listened to what our friends had to say about them. It seems like this slogen-texted, shout-punk style comes most naturally, however I swear I'd really like to play more emotional songs as well.
What's with this year? What's up with this Arcade Fire-like set up? Where does the idea of this shack-style-rock-opera coming from? 
So far the band has always been in an in-progress state. First slipping into this punk thing and then came this outburst of the bedroom-scene we also got tangled up in. And then I thought "Ok. Now I've been doing this long enough with all my heart, however without aim, so it's time to set some goals." The rock opera is surely an over-the-top concept, so it's more likely it'll end up being a series of songs around a single casually constructed story, while adjusting the structure of each song to match the text. I started things by jotting down 10 song titles, and explaining each in about two sentences, describing what I'd like them to be about. Initially the lyrics came first, but later on things changed and I had the music first for what I created the words.
How did this thing kick off with Csenge, the new singer in the band? For a while I thought you'll be the Hugarian Kills, Best Coast or Tennis, especially seeing some gigs where it was only the two of you on stage. And now, with Gallus joining, you have a 5 piece set…  
We've been once with Csenge at the Adriatic (sea) playing tunes from Robyn and Lady Gaga on the street. We enjoyed that a lot, and the idea came if the others are not available, we might as well do the whole Halál Judit thing together with just the two of us on stage. Things are bit more difficult with Gallus. The first couple of rehearses went really well, but once we finished our first song together, for me it felt like having Halál Judit and Mayberian Sanskülotts (Gallus's band) lined up next to each other without making any connection. Thus Gallus will only participate in our slower songs, which are finding their way back into the set once again.
It seems to me that Halál Judit is a sort of workshop for you, and its momentary form and setup is as much defined by factors such as the distance between the gig and your home, the price of a train ticket or the size of the trunk as it is by the songs themselves. Is this contingency part of the concept, or you just really don't care too much?
This has been the case until now, but I really want to clean things up around the band, though I'm unable to force this on the others. I'm nobody's 'führer', and although being five of us in this band, the completion of this record by my bithday in autumn is really no one's priority other than mine. But this record – which eventually will be finished – in the end will be about us: I'd like this one to be a personal record, with the context of this small group referred to as the lo-fi scene and it's horizon being Hungary in all its actuality.
How was it with the drums at the beginning? Was it an obstacle to overcome?
If Don was able to pull himself together, he wrote them, otherwise I usually took some time, listening to music, while paying attention only to the drums. In Túl hosszú az élet (Life's too long") one can recognize patterns from Beach Boys, Green Day and also from Sum" 41. These had been slightly modified for the sake of the drum machine.
What do you think is going on now with this lo-fi or bedroom movement? Is this a scene related to a specific genre, trend, lifestyle or to some other external factor? Does it have any effect on other fields?
I don't want to get into wild theories, but it's pretty interesting to see that this whole scene came to existence when we have all sorts of crisises, the country does not have money to produce films and so on. For me it's all about being resourceful, which can transposed to other fileds as well. Here's the new film of György Pálfi for instance, which has been patched together using footage from classic movies, with basically zero funding. I do have a sentimental side, but I always had anger towards those bitching about lack of funding and opportunities. As the renowned ETA sang it: "This is no way to live, but that's the way we have to live."
The way you see things, can Hungarian lo-fi outgrow its boundaries set by a given distinct genre?
What I hope is that, it's the attitude that gets around rather then the musical genre itself, and that who is really good, will be able to continue later without the scene.
What are the common features of these bands?
I would say that the only thing is the fact that we know each other, and we do get along really well.
Who do you think will be the first being able to make a living out of this? 
I'd bring up Fluor Tomi as an example. Based on his example, one needs an image, which is simple and can be communicated well and can be consumed by various types of people, and one or two hits. I don't see why we couldn't do it, if Don would pull himself together and wrote a handful of songs like Balaton, sang by Csenge and compatible with MR2 (Hungarian radio station). And as for being lo-fi, that's what they have me for.
Have you organized the scene around you or it is something happened spontaneously without control at the second half of 2010?  
When I came out with the Hungarian Bedroom Noise blog, it was meant to be a joint effort led by Zoli, Zsofi and myself, but somehow I ended up doing it alone. Those concerts I was able to organize for bands at A38 after the events of ÚjNautilus, was an opportunity too good to miss. The scene itself is more like a friend circle including Szilvió (Route8), Zita (Mayberian), Zoli (Nohopekids), Zsófi (Piresian Beach), Dávid (Los Vargitos), me and some folks who don't even play music. The rest is connected to us with other mutual firends I guess. However, with the blog came to an end, I'm no longer in the center in any way.
list:
Best new song: Madonna feat Nicki Minaj & M.I.A. – Give Me All Your Luvin
Best song: Daniel Johnston: Fish
Best Hungarian band: Kőnigh és a Ciklámen are my favorites
Best Hungarian song: Ámen: Gyere ki
Best movie: Wong Kar-wai: Ashes Of Time used to be my favovite. Lately I haven't been watching movies
Best movie from last year: The few I've seen were rubbish except for Winter's Bone
Best book: Proust: In Search of Lost Time
Best city: Budapest, this is where I have most of my friends
Best pub: Alpesi, Győr, Marcalváros. There used to better ones, but they'd all gone bad. I'm always happy to have a drink here though
Best concert: My Bloody Valentine, 2008, Benicassim
Best concert last year: Soap & Skin
Best video game: Carmageddon
Best instrument: my Fender
Dream instrument: Fender Jaguar. However this is not a dream, I'd just be happy about it
Dream collaboration: being a session guitarist on a Lady Gaga tour
————————————————————————————————–
This charming nostalgic piece was one of the best Hungarian songs last year: