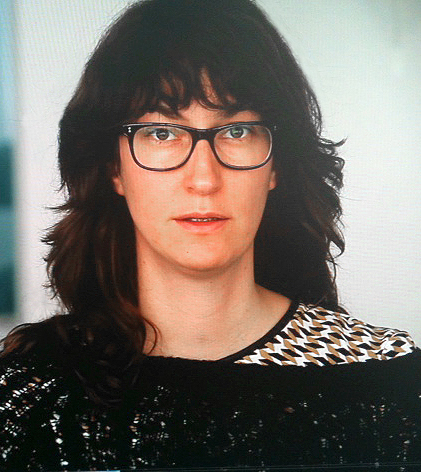 The first Off-Biennial Budapest, a festival celebrating the independent contemporary art scene in Hungary, just kicked off with an extensive program, which will go on until the end of May 2015. After seeing "Please Do Not Touch The Ceiling" realized as part of a 2012 residency in Kosice, Igor Metropol invited Claire Waffel to develop a new, site-specific work. The Berlin-based artist studied at the London College of Communication, and has exhibited her work at the National Portrait Gallery in London (2004), and in solo shows at East Slovakian Gallery (Košice, Slovakia 2012), Bezalel/Yaffo 23 (Jerusalem 2011) amongst others. In February Claire visited Budapest for the first time, and started working on "Kommerz was yesterday", a performance, which will be presented on April 30, 6 PM at Igor Metropol's studio space.
You are working with a wide range of media including video, installation, photography, collage, and architecture. Can you tell a bit more about your practice and which role each medium plays when approaching a new theme. 
Yes, my practice is multidisciplinary. I came from working with the medium of photography, concentrating on portraits and using it as a way of exploring spaces over a longer period of time. At some point I came up against a strong sense of limitations when working with photography. I started using video in order to incorporate sound and therefore different time layers e.g. talking about the past while showing the future… I still use the medium of photography however, often as collage or in combination with painting in order to highlight or eliminate certain elements and information in the image and therefore abstracting and adding further aesthetic choices. I would say that I currently focus on site-specific installations, where the history or context of the place plays a role as well. I also create sculptures or objects from this situation that have a minimalist aesthetic. Photography continues to play a role and in my piece that I will be presenting in Budapest "Kommerz was yesterday", I explore working with an overhead projector for the first time.
In "Please Do Not Touch The Ceiling", a work that you developed during K.A.I.R., the Kosice Artist In Residency program in 2012, you explored, and literally "laid open" the history of The House of Arts, a former synagogue converted under Communism. Can you describe the process that resulted in this radical act?
I was struck by the many synagogue buildings of Košice, a town in Eastern Slovakia, and started researching their current usage and the state they were in. This part of Slovakia used to be multinational before the Second World War with Hungarians, Germans and Jews living side by side. This is something that is no longer the case but often referenced as being an important part of this regions history. It was The House of Arts that struck me especially, as the building itself is a strong case in talking about the history and ideologies or beliefs that have passed through this region since the 30s. Originally a synagogue, the building was converted under Communism into a concert hall in the process of which all religious symbols were removed and destroyed. Now the building is one of the largest concert halls in Eastern Slovakia. A lucky coincidence of being a tourist during my residency was, that I was shown the building from roof to cellar and came across the interior of the former Cupola, which is now sealed off by a prefabricated ceiling from the 50s. It is an invisible space to visitors of the building and the only place where religious icons still speak of its past. The signs of planned destruction of this space are equally visible, with many holes having been knocked into this ceiling. This discovery sparked off all of the work that I created as part of the residency: A video piece "Palace of Arts" that dealt with and revealed the space; abstract/minimalist drawings that showed representations of time and a site specific installation in the gallery, where I cut into the ceiling in order to reference the act of revealing the layers of a building and mirroring the situation of the House of Arts.
Your work is mostly dealing with very universal themes. Which role does a local context play, if at all?
As with in Košice and as here in Budapest, the local context is hugely important. Big themes such as history, time and memory are inescapable wherever you are. What I find interesting is how they manifest themselves in a local context.
Do you think as an artist, you are obliged to create work that is critical towards certain situations or circumstances?
So many contexts have conditions attached to them, which limit how truthful or critical you might allow yourself to be. I appreciate a lot that art, and I don't think this is an out-dated concept despite the market that has created itself around art, is a way to express, question, make sense and connect quite freely. Art for me is a medium where I have expressed what I want to look into, without considerations of opinions, I feel quite free here. Some things feel necessary to open or say and I do this. The critical quality of my work I think is much more a beginning of a conversation and sharpened perspective rather than a judgement. I hope to take actions or create pieces that open something that needs to be looked at or talked about. I try stepping back and looking at it together with, next to or in dialogue with other spectators.
As someone growing up in the former West, how do you approach issues around Communism and its legacy in Eastern Europe?I think this is a very good question. As a method I often start with a quite precise, local context and work my way out from there. There are certain themes in general that fascinate me and that have a strong bearing on my work and it is maybe not by chance that I have realised projects in Slovakia, Prague and now Budapest. Finding architecture that talks of the past as well as the present is fascinating to me. When it stands as a reference of different regimes or systems even and the aspirations behind these times, things that were desirable or forbidden, the building becomes very pertinent. I am not sure if it can help to be in an unfamiliar environment to start asking questions. Maybe it is also linked to the fact that the places that I have been to in Eastern Europe, the history has been characterised by massive changes to the political system, as for example the collapse of Communism. My experiences of living in Berlin, where architectural sites were historically preserved after the fall of the Berlin Wall, is that two different pasts are starkly exposed side-by-side and this manifests itself architecturally. It just so happens that one of these pasts is Communist. However, it does present a link to and a fascination with Eastern European history in general. The past is still more present in Eastern Europe I find.
"Kommerz was yesterday" will be your first presentation in Budapest, and you are currently developing it as a site-specific performance. Can you tell a bit more about your approach to involving or reacting to the current local situation?
My approach this time is associative and playful, less research based than for other projects. I came to Budapest a few months ago to discover the city and look at different places. With a general interest and focus on consumerism, I came across the building of Corvin. This building interests me for the very big transformation that it has undergone from its beginnings till now. Originally a state of the art building, it is currently in a state of disrepair, altered and adjusted to multi-usage. Our performance does, I believe, highlight Corvin as a very interesting place for which I use the overhead projector as a way of composing images while Pere composes sounds on his computer and the two begin to interact and communicate with each other. Mainly I was researching images on the net that would give insights into the past. I tried researching in some libraries but the difficulty of the language made me realise that this would be something that required more time. I spent some time in all the different parts of the building trying to understand what each offers and how they might interact. In a way, the building in its current state resembles strongly that of a collage.
You are collaborating with sound artist Pere Ferrera Bertran. Did you work together before on similar projects?
It is a first time collaboration. We met online, we liked the same band and the conversation started from there. I proposed to work on this project together as I already had the idea of what I wanted to develop and I think we understood immediately how we could work together. We shared the same interest into which direction to develop the project. Pere has put together a set of digital loops with pre-recorded sounds, partly self- generated and partly atmospheric such as recordings of a cafe in Budapest. He adds and removes layers during the performance, constructing and deconstructing musical atmospheres, unravelling playful melodies that connect with the images and the main underlying concept. Since the music is being shaped live while the images unfold, the sound is being created for each performance. Pere and I would both be happy to develop further projects in the future, let's see.
Q & A
Best exhibition you have ever visited?
Documenta 13
Which person from the art or cultural world would you like to meet for a dinner?
Carolyn Christov-Bakargiev
Favourite movie of all times:
The White Ribbon
Book recommendation
The Master and Margarita