Meet the current studio residents at Igor Metropol
Kinga Tóth and Kaspar Mattmann started working together in 2019. Their artistic collaboration resulted in the photographic series Metamorphosen produced mainly in Switzerland during the first wave of the COVID-19-pandemic in spring and summer 2020. The duo first jointly presented the exhibition Írmag / Offspring at 1111 Gallery in Budapest in September 2020, which was followed by an expanded installation of this material at the Hungarian cultural institute in Tallinn one year later. The collaboration between Tóth and Mattmann continues until today. During a joint artists' residency at Igor Metropol in autumn 2021 they continued working together on their ongoing series Mondgesichter.
The starting point of the new project developed together at Igor Metropol is Holdvilágképűek / Mondgesichter [Moonlight Faces], an essay volume of Kinga Tóth first published in Hungarian 2017 by Magvető publishing house. The text deals with rare and congenital "diseases", with hiding and the language around "disease".
An important aspect of their artistic collaboration is that the civilian profession of the photographer Kaspar Mattmann is a doctor and Kinga Tóth is a (former) patient. The friendship between the two of them, trust, creation, but also depicting doctor-patient relationship through the images, the tension, and common and individual experiences gained about the body are reflected within this exhibition. The presentation at Igor Metropol seeks to showcase this intimate process accomplished during three quarantines, opening a space of sensitivity for the visitors.
Project and events planned during the studio residency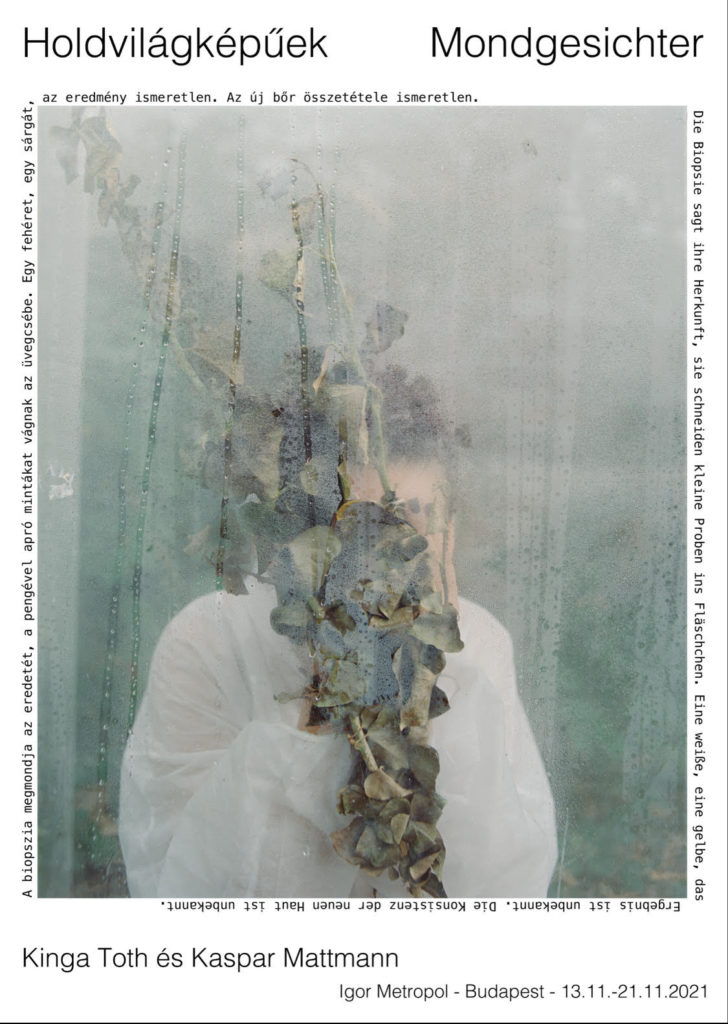 H O L D V I L Á G K É P Ű E K // M O N D G E S I C H T E R
an exhibition by Kinga Tóth and Kaspar Mattmann
13 – 21. November 2021
Igor Metropol Studio

The exhibition will be opened by Lilla Gregor, author and literary critic

Contributors at the opening event: blanche the vidiot, Dávid Bodnár Vajda and Bálint Bolcsó

Concept: Kinga Tóth & Kaspar Mattmann
Text: Kinga Tóth
Photo: Kaspar Mattmann
Video poem: Kinga Tóth
Sound piece: Kinga TóthObjects: Kinga Tóth & Kaspar Mattmann

The exhibited photos were taken during the residency of Kinga Tóth and Kaspar Mattmann at Igor Metropol this autumn, and during the residencies of Kinga Tóth at Landis & Gyr in 2020 and at Villa Waldberta-Lyrikkabinett Munich in 2021.

The opening event will be streamed here.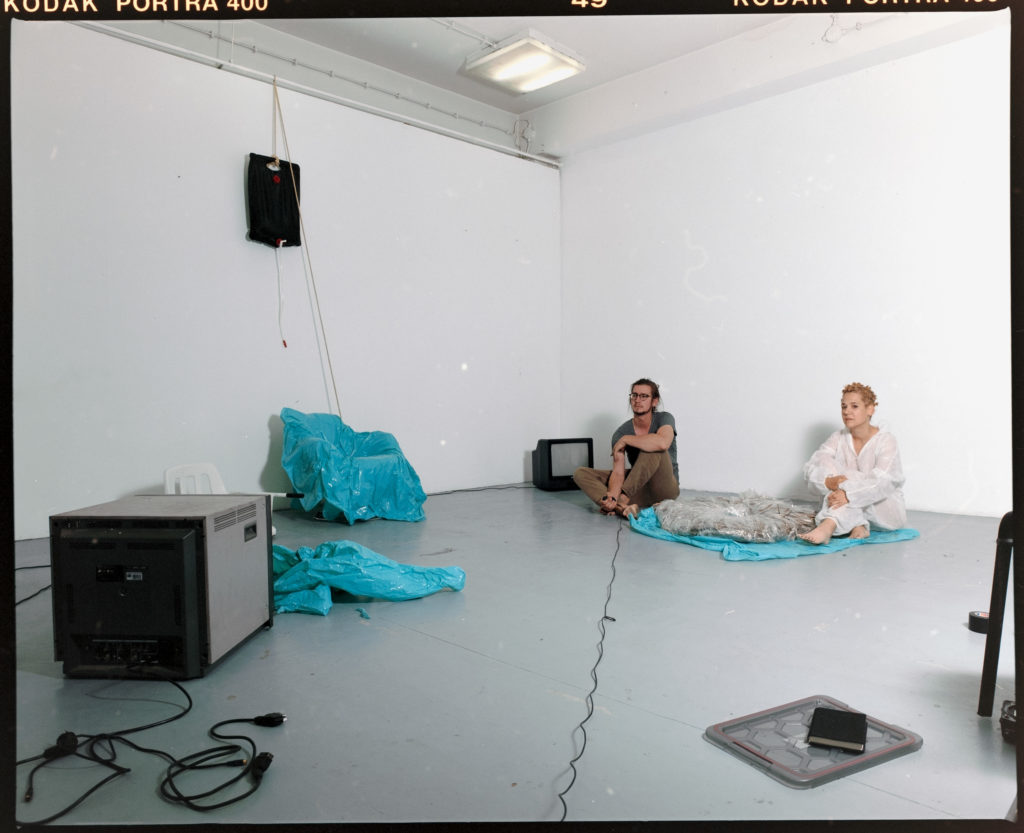 Kinga Tóth (*1983, Sárvár, Hungary) is an intermedia artist and a performer who works with visual- and sound poetry. She also writes and publishes short stories, poems and drama pieces in Hungarian, German and English languages. She is also a musician, extensive vocalist and her work is presented internationally in performances, exhibitions and installations (e.g. Manifesta 11, Zürich; OFF Biennale, Budapest; Wechselstorm Galerie, Wien; Akademie Schloss Solitude, Stuttgart).
For her interdisciplinary work she received 2020 the Hugo Ball Förderpreis and the Bernard Heidsieck Prix in Centre Pompidou. At the moment she is artist in residence at Künstlerhaus Villa Waldberta in Munich and in Igor Metropol Studio. This year her visual work is to be seen in Tallinn, in Centre Pompidou in Paris and in Budapest. Her recent books: Transit (Sukultur, 2021), Offspring / Írmag (Yama Books, 2020), PARTY (Birds LLC, 2018 and Prae Kiadó, 2013) All Machine (Magvető Kiadó, 2014), Allmaschine (Akademie Schloss Solitude, 2014), Village 0-24 (Melting Books, 2016), Wir bauen eine Stadt (Parasitenpresse, 2016), Textbilder (Gedok, 2016-2017). Upcoming: Mondgesichter (Matthes&Seitz, 2022).
www.kingatoth.com
Kaspar Mattmann (*1991, Switzerland) is a Lucerne-based photographer and medical doctor. The focus of his work lies on the exploration of the boundaries of the objective and the subjective, the living and the non-living and the fine line in between through a variety of photographic interests including documentary, portraiture and architecture. Having a profound interest in analog photography, most of his photographic work is shot on film. In 2019 he co-authored the book Endlich daheim in meinem Kopf with writer and photographer Noah Arnold which was published by Benteli Verlag. Having studied human medicine in Berne, Switzerland and graduating in 2017, he was working as an internist at the Lucerne Cantonal Hospital until March 2021, now taking time off as a resident at Igor Metropol studio to concentrate on his photographic work. He incorporates his experience working as a doctor into his artistic work. Since late 2019 he has been working with hungarian writer and multimedia artist Kinga Toth, an artistic collaboration which continues until today.